Home
Conan Exiles
Order now, Instant Setup

Now Avaliable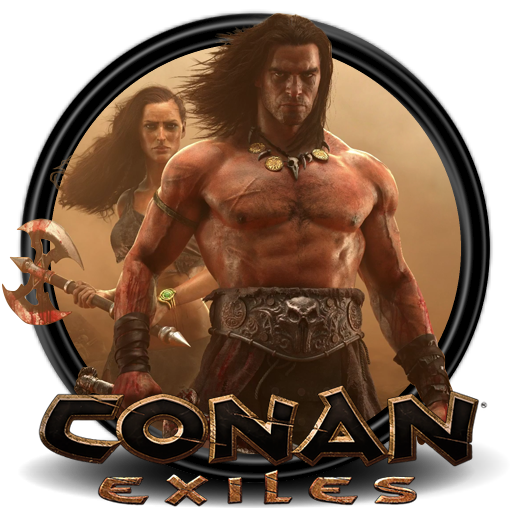 PixArk
Order now, Instant Setup

Now Avaliable


High Performance, lag free game server hosting
Deploy a game server instantly and experience the AA Game Hosting difference! in over
13

locations, supporting

49

Games! Connect to your players all around the world, with a low latency infrastructure solution no matter where you or your players may be! All our locations and servers are DDoS Protected
Custom Game Server Control Panel
We've spent years of developing our custom version of Tcadmin control panel intergrating the features our clients need and requested.
Our control panel is easy to use. It's as simple as click and play. You can access important details, update settings, and control your server from a single page. Each game is manually configured and continuously updated to ensure your game server stays up-to-date. All servers feature automated updates, backups, mod updates and more.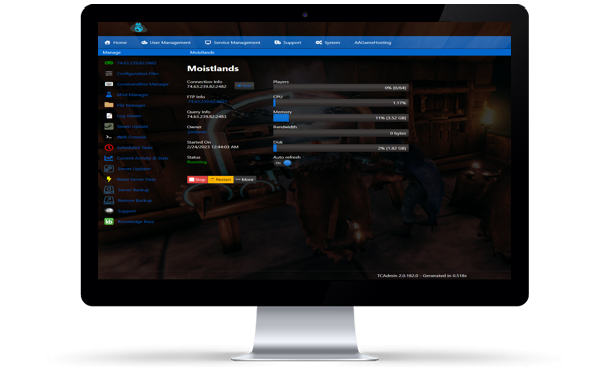 Instant Setup
As soon as your payment has been recieved our system begins setting up your server, allowing you to start gaming within minutes.
SSD Powered
We use the latest Intel processors giving your server up to 4.2 GHz of raw processing power combined with DDR4 memory and Intel SSDs.
Control Panel Access
You will have full control over your own server through our control panel as well as full FTP access.
DDoS Protection
All our servers have at least 10 Gbp/s DDOS protection, minimising interruptions to your gaming.
Worldwide Locations
We provide hosting all around the world, including game hosting in Europe, USA, Australia and Asia!
Secure Payments
Your payment details never touch our servers, allowing you pay in confidence. Not happy? Let us know!
Our Powerful Hardware
We only utilise the best hardware in our datacenters, giving you maximum performance game servers, at a fair price.
High Performance CPU's
The majority of our dedicated server machines use Intel i7 7700k processors with 5.0+ GHZ, the very best on the market for game server hosting.
SSD Powered
We use the very latest SSD technology with our machines, INTEL NVME SSD inside means up to 6x faster than normal SSD technology.
DDR4 High Freqency RAM
With all our machines we utilise high frequency DDR4 RAM, providing the very best in performance.
DDoS Protection
All our servers have at least 10 Gbp/s DDOS protection, minimising interruptions to your gaming.
1 GBPS CONNECTION
All our servers have a dedicated 1 Gbps connection, we utilise multiple premium network providers and redundancy systems are in place.
Off-site Backups
We have offsite backups of our data, protecting your data if things go wrong.
Conan exiles, a FPS RPG game has just left early access, To celebrate the success of the game and it's release, we're providing a 10% off discount to all new and returning customers!
Use code CONAN10 at checkout.
SERVER HOSTING LOCATIONS
AA Game Hosting offers Network coverage worldwide, providing the very best network coverage in over
13

locations, Connect to your players all around the world, with a low latency infrastructure solution no matter where you or your players may be! All our servers are DDoS Protected. We currently offer hosting in the locations on the map below.
Customer Testimonials
Hear what our clients say about our game servers
Was unsure at first, but talked to Jeffery and he answered all my questions, 3 months in, service is great, no issues, highly recommend anyone wanting a good, responsive host
Daniel J
Their customer support is awesome. I put a ticket in and I get an answer on most days with in an hour or so.
Michael C
No hidden fees, no lag, no disappointment. The moment my payment was sent, I got the message that my server was up and running.
StylaX
My Game Server was activated almost immediately. Moreover, you can contact them directly with any service issue. They will be prompt and as helpful as possible!
PixelDragon
Game server is super fast and high performance, best game hosting i have used so far, tried others before that were sub par compared to this, give AA Game hosting a try!
Johnas W
Rented a voice server and game server from these guys and have to say, performance has been super and they have been helpful with my questions.
Foxstar